The Trump presidency would not have been possible without financial support from wealthy donors and endorsements from public figures. While it is understandable to offer support for one's political ideals, it can be a fine line that separates acceptable support from a potential conflict of interest.
The following "contributors" may not currently warrant a total boycott on their businesses and ventures, but it is wise to be aware of where the money you spend will ultimately land.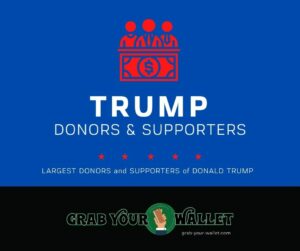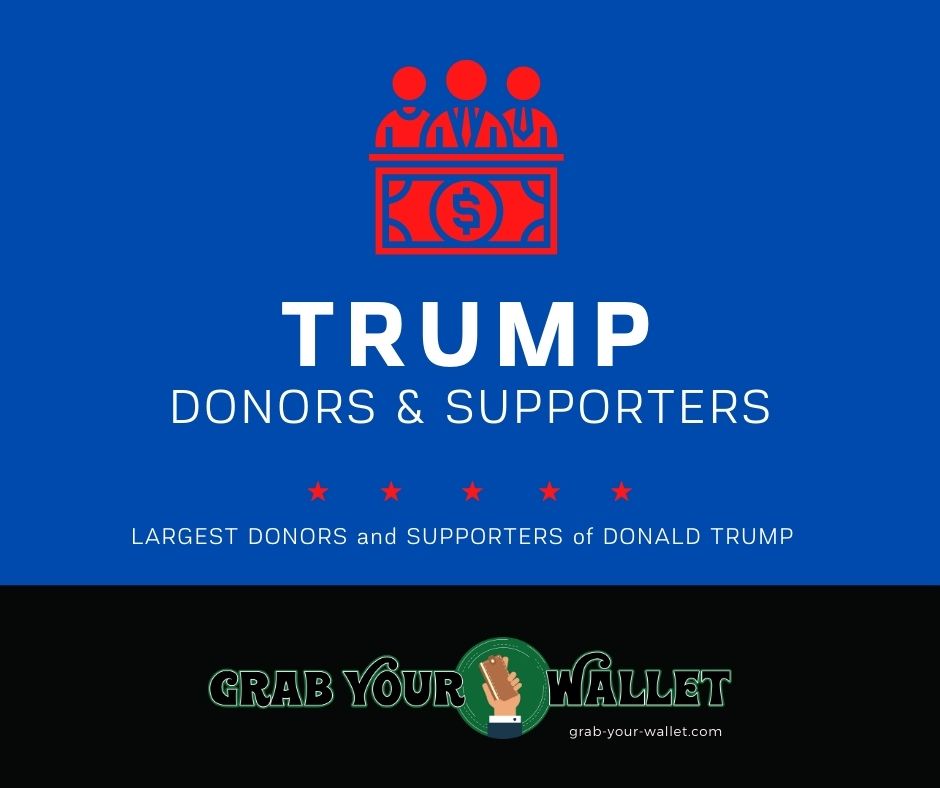 FINANCIAL DONORS and SUPPORTERS 
LARGE DONORS ALSO APPOINTED to TRUMP'S CABINET / KEY POSITIONS
It's amazing that anyone can think that Trump is "draining the swamp" after noting the lack of qualifications (other than the open checkbooks) of these cabinet picks. What it does resemble is a plutocracy.
Linda McMahon, World Wrestling Entertainment ($6,002,700 donated to Trump & Allies – now Small Business Administration Head)
Andy Puzder, CKE Restaurants ($20,800 donated to Trump & Allies, plus $1.3M to Conservatives 1990-2016 – now Dept of Labor Secretary)
Carl Icahn, Icahn Assoc ($10,800 donated to Trump & Allies, plus $776K to Conservatives 1990-2016  – now Executive Office of the President, Special Advisor on Regulatory Reform)
David Friedman, Kasowitz, Benson et al ($5,400 donated to Trump & Allies – now Dept of State-US Ambassador to Israel)
Steven Mnuchin, Goldman Sachs ($5,400 donated to Trump & Allies – now Dept of Treasury Secretary)
Wilbur Ross, WL Ross & Co ($5,400 donated to Trump & Allies, plus $956K to Conservatives 1990-2016  – now Dept of Commerce Secretary)
Rex Tillerson, ExxonMobil ($2,700 donated to Trump & Allies, plus $429K to Conservatives 1990-2016  – now Dept of State Secretary)
Betsy DeVos, Windquest Group (over $7M to Conservatives 1990-2016 – now Dept of Education Secretary)
TOP 10 LARGE TRUMP DONORS
Robert Mercer ($13.5 million), CEO of New York-based hedge fund Renaissance Technologies – started a super PAC to support Ted Cruz and Trump's campaign manager Kellyanne Conway managed it. When Cruz dropped out, Mercer changed the name of the super PAC from Keep the Promise 1 to Make America Number 1 and focused on supporting Trump's campaign.
Sheldon Adelson and Miriam Adelson ($10 million), CEO OF Las Vegas Sands Corporation (LVS) – Sheldon is the CEO of Las Vegas Sands Corporation. He and his wife both gave $5 million each to the Future45 super PAC. Adelson also gave $1.5 million to the Republican National Convention this year.
Linda McMahon ($6 million), World Wrestling Entertainment Inc. (WWE) – gave $6 million to the pro-Trump super PAC Rebuilding America Now, making her one of the biggest donors to Trump. McMahon, who runs a company that promotes women in business, has called Trump's comments about women "deplorable." She and her husband have given $5 million to the Trump Foundation in the past, according to The Washington Post.
Bernard Marcus ($7 million), 87-year-old Bernie Marcus is the co-founder and former CEO of Home Depot. He currently sits on the board of the Republican Jewish Coalition. He gave to the Rebuilding America Now and Make America Number 1 super PAC.
Geoffrey Palmer ($2 million), G.H. Palmer Associates – Donated to Trump's campaign through the Rebuilding America Now super PAC
Ronald M Cameron ($2 million), CEO of Mountaire Corp – CEO of an Arkansas-based poultry company called Mountaire Corp. He previously contributed $3 million to Mike Huckabee's bid for president and donated to the pro-Trump Rebuilding America Now super PAC.
Peter Thiel ($1.25 million), Palantir Technologies – Venture capitalist Peter Thiel donated to Donald Trump's campaign through super PACs and the official campaign committee. As a delegate for Trump at the Republican National Convention, Thiel delivered a speech in which he expressed his frustration with America's "broken economy." Thiel is also a director at Facebook (FB).
Walter Buckley Jr ($1 million), Actua Corporation (ACTA) – Buckley is the CEO of Actua Corporation, a publicly-traded venture capital firm that acquires and builds cloud companies. He donated to the Rebuilding America Now super PAC.
Cherna Moskowitz ($1 million), Hawaiian Gardens Casino – Cherna Moskowitz is the president of Hawaiian Gardens Casino and the Irving Moskowitz Foundation. She donated to Mercer's Maker America Number 1 super PAC.
Peter Zieve ($1 million), Electroimpact – the founder and president of Electroimpact, a manufacturing firm that counts Boeing and Airbus among its customers. He gave money to Rebuilding America Now.
MEMBERS of MAR-A-LAGO
Mar-a-Lago is a Trump property that has been dubbed the "Winter White House" and "Southern White House". Trump often spends taxpayer funded time at the property that requires membership costing thousands of dollars.
Bill Belichick, Head Coach of the New England Patriots
Bill Koch, Founder of Petroleum and Oil Refiner Oxbow Carbon (would be a significant beneficiary of Keystone XL pipeline)
Howie Carr, Radio Talk Show Host and Columnist for the Boston Herald
Thomas Peterffy, Founder, Chairman, and CEO of Interactive Brokers Group
Richard LeFrak, Chairman and CEO of New York City-based Property Company LeFrak
Janet Weiner, Part Owner and CFO of Rockstar Energy Drink
Diane Lokey Farb, Real Estate Broker from Houston, Texas
George Norcross, Insurance Executive and a Leader in New Jersey's Democratic Party
Kenneth M. Duberstein, Lobbyist and Corporate Consultant for Companies including Pfizer, Dow Chemicals, and America's Health Insurance Plans
Bruce Toll, Co-founder of Toll Brothers Luxury Home Builders
Jeff Greene, Real Estate Tycoon and Energy Investor
James Dolan, Owner of the New York Knicks and Executive Chairman of The Madison Square Garden Company
Beth Stern, Actress, Model, and the Wife of Howard Stern
Avram Glazer, Family Owns the NFL Tampa Bay Buccaneers and Controls the English Football Club Manchester United
James Patterson, Bestselling Fiction Author
TRUMP FUNDRAISERS
OTHER DONORS
Linda Bean, Member of Board of Directors, LL Bean and Owner, Linda Bean's Perfect Maine – Gave $60,000 to Elect Donald Trump, via a PAC she set up called Making America Great Again (contribution was illegal as the donation exceeded the $5,000 limit for political action committees and the group was questioned by the Federal Elections Commission)
TRUMP ENDORSEMENTS
Jerry Falwell, president of Liberty University in Virginia, Jerry Falwell Jr. broke with many social conservatives when he endorsed Trump.
Willie Robertson, "Duck Dynasty" reality television personality endorsed Trump in January, breaking from the political beliefs of his father, Phil Robertson, who has endorsed Ted Cruz.
Brian France, NASCAR CEO who said, "I've known Donald for over 20 years, I'm going to tell you one thing: You know about his winning and success. He wins with his family. Any of his children, you'd be proud to have in your family. That's how I judge a winner."
The New York Observer editorial board, which focused on Trump's optimistic message and can-do leadership, necessary, the editorial states, in the face of "profound alienation, anger and disillusionment of millions of Americans." It adds: "Donald Trump is the father-in-law of the Observer's publisher. That is not a reason to endorse him. Giving millions of disillusioned Americans a renewed sense of purpose and opportunity is."
Sheldon Adelson, CEO OF Las Vegas Sands Corporation formally endorsed Trump in mid-May, saying that he didn't agree with Trump on all issues but would be better than Hillary Clinton.
Wayne Newton, the artist known as "Mr. Las Vegas," gave Trump the thumbs up on a Fox and Friends episode.
Vojislav Šešelj, the far-right leader of Serbia's Nationalist party (currently awaiting the verdict of a UN tribunal on whether he committed war crimes in Croatia and Bosnia and Herzegovina) — wants to "make America great again." In early January, Šešelj tweeted, "I call on brother Serbs who live in the USA to strongly support Republican Party candidate Donald Trump in the upcoming presidential elections." He and Trump might not have a lot in common, but they share a disdain for Muslims.
Ann Coulter, conservative commentator has long been a vocal opponent of comprehensive immigration reform and a path to citizenship for undocumented immigrants. Even so, she says she didn't know much about Trump "until he won me over with that Mexican rapist speech. … He's just always cared about America first."
David Green, CEO of Hobby Lobby endorsed Donald Trump for President, basing his entire decision on religious liberty through his Supreme Court appointments
Mike Lindell, founder of My Pillow, vocal Trump supporter who hoped his relationship could help speed approval for a COVID treatment he'd invested in
Donor and endorsement information from online sources including opensecrets.org, investopedia.com, and politico.com.
=====
Share on social media and help stop the flow of money and power to this dangerous fringe that lives outside of reality. Share any updates (requests for additions or removals) with a linkable source in the comments below.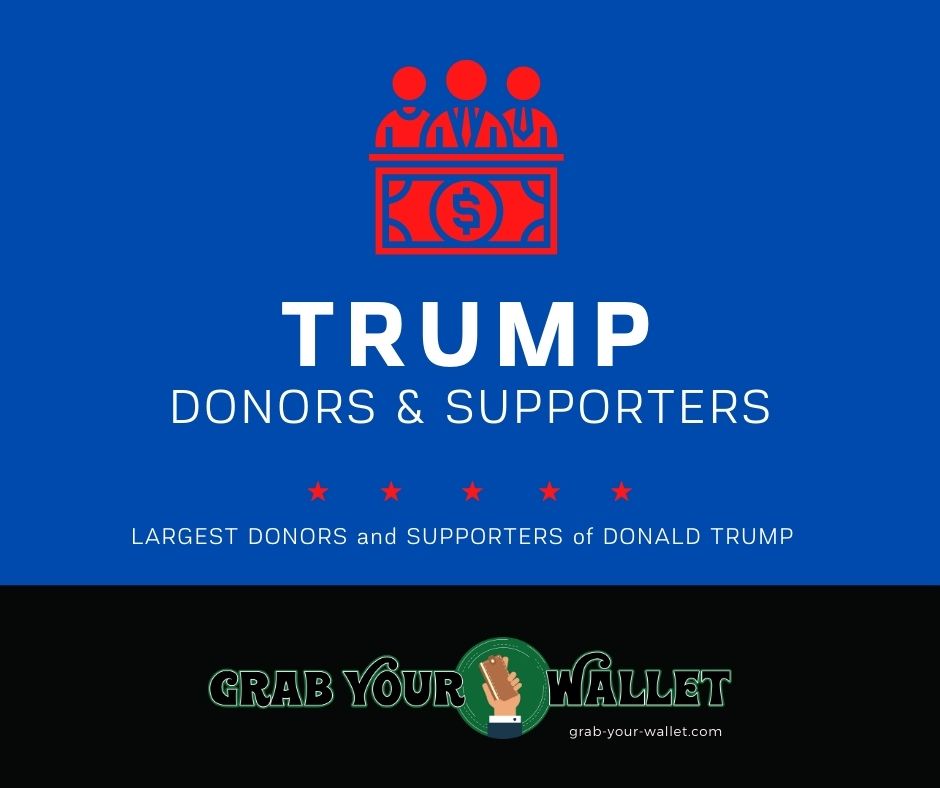 =====
To learn more about where Trump makes money that supports his policies, visit these additional boycott pages:
=====