The criminal acts of January 2021 are hard to reconcile, but it has become painfully clear that Trump's enablers have definitely played a part in keeping this dangerous man in power.
A growing number of places are finally cutting their support for Donald Trump and causing the Trump losses listed below. It is important to continue to put pressure on places that enable Trump with financial support.

Donald Trump Becomes the Only US President to Be Impeached Twice
Trump has just been impeached by the House again. It appears that the Republican-controlled Senate will not require Trump to stand trial for the impeachment until after his term is over on January 20, 2021.
The 45th US President still refuses to take any kind of responsibility for his actions, nor has he implored his followers to call off their dogs. He continues to speak with inflammatory language, in spite of the swift and extreme backlash that he and his followers have received for their actions. Normally, this type of behavior had gone without consequence for Trump, but it appears that he has finally crossed a line for many of his supporters.
It's long overdue, but this timeline highlights the major companies and supporters that have recently dropped their support for Trump.
Trump Losses on Thursday, January 14, 2021
Trump faces more consequences for his actions and learns that Biden will rejoin the Paris accord and rescind Trump's travel ban on his first day in office.
Trump Losses on Wednesday, January 13, 2021
After a day of losing platforms for selling merchandise and losing contracts, the House Democrats plus 10 Republicans voted to impeach Donald Trump. This makes Donald Trump the only president to be impeached twice.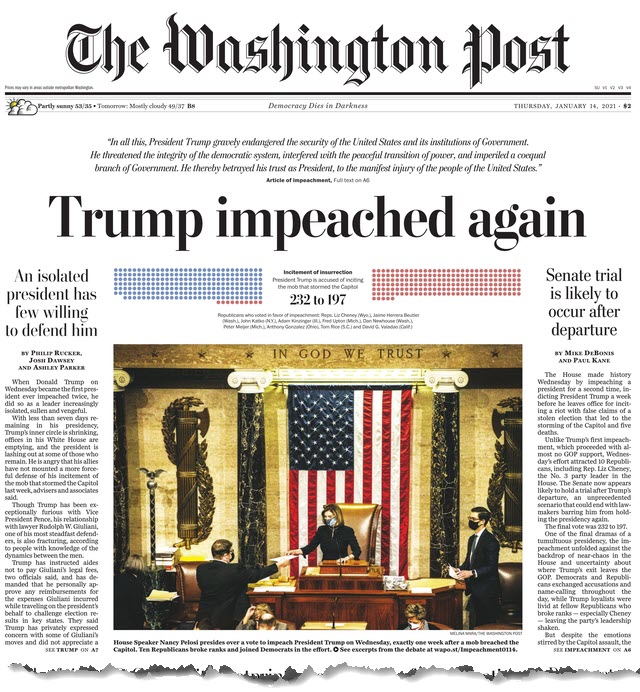 Trump Losses on Tuesday, January 12, 2021
Support for Trump continues to erode on multiple fronts.
Trump Losses on Monday, January 11, 2021
Trump Losses on Sunday, January 10, 2021
Trump Losses on Saturday, January 9, 2021
Trump Losses on Friday, January 8, 2021
Trump Losses on Thursday, January 7, 2021
Trump supporters start to distance themselves from Trump's actions and resign from their positions.
Trump Losses on Wednesday, January 6, 2021
Congress meets to certify Joe Biden as the winner of the 2020 US Presidential election, while Trump gives a nearby speech to supporters. After making more baseless claims of a stolen election, Trump tells the crowd "if you don't fight like hell, you're not going to have a country anymore," and urges them to head to the Capitol. This leads to a deadly mob breaching the US Capitol.
Trump Losses on Tuesday, January 5, 2021
Republicans suffer a major loss as Georgia voters reject the pro-Trump incumbents on the ballot and elect 2 Democrats to the Senate.
Trump Losses on Sunday, January 3, 2021
====
Trump and his enablers have still not stepped down or taken any kind of responsibility for these events. It is still extremely important to put pressure on the places that enrich Trump, the Trump Corporation, and politicians who blindly follow his dangerous demands.
Visit these pages to find out who is supporting Trump so that you can spend your money where it will not support dangerous policies.
====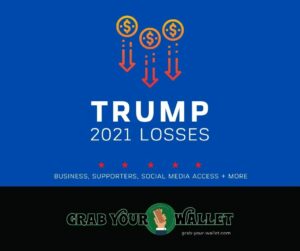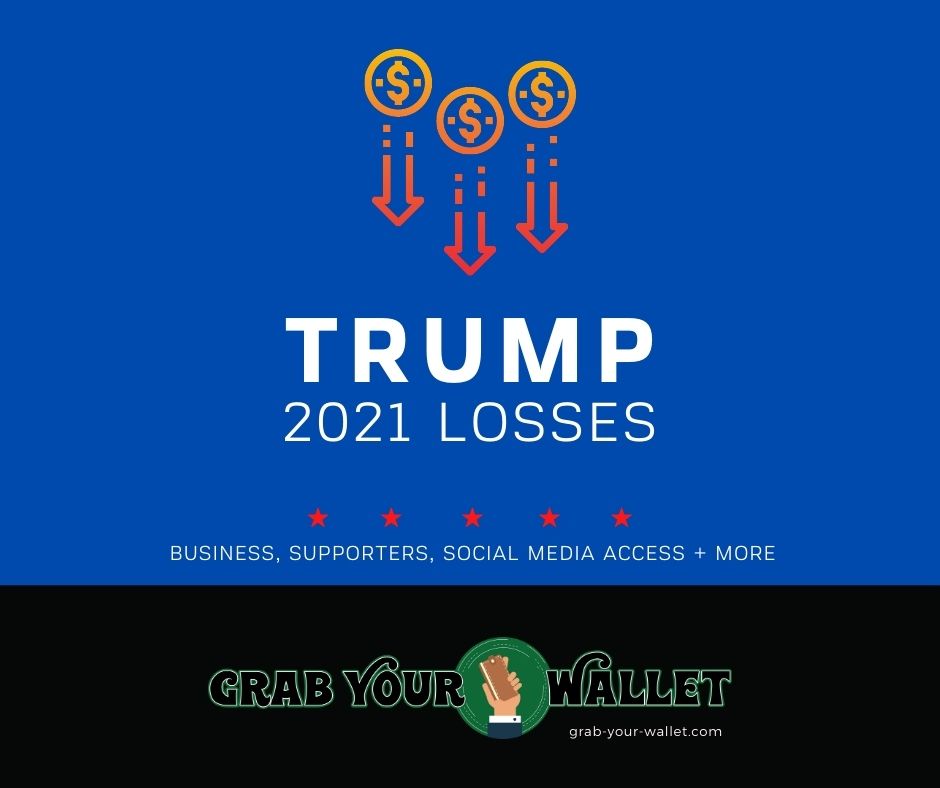 Please share your thoughts and any updates to the list of things Trump has lost in 2021 (with source) in the comments below.